Bio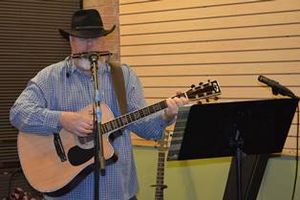 Rob Owen has a multi-faceted music background.  He began his songwriting career in the 1980s, and has had many opportunities to perform his music, while stationed in foreign countries with the US Army -- including many German festivals.  He also performed for the troops stationed at the Forward Operating Base in Baghdad, Iraq. He has performed with Grammy Award winning guitarist, Brad Davis, at several locations throughout Texas and served as a judge during the "Cowboy Idol" contest in Fort Worth, TX.  He was interviewed and appeared twice on the live radio program "Music Scene Live" with Allison Balson, and on "In the Music Room" with Randy Tredway.  Several of his songs were featured and played on KFYN 1420AM, "The Warrior" and "The Bill Rainey Show" radio program, NBRN-FM, out of Nashville, TN.  His songs "Send You Home" and "I'm Going Back to Texas" were also selected in the top ten of the "Ruby Almond Songwriter Contest". 
Rob writes and performs all types of music, including country, Americana, acoustic coffeehouse, folk, and blues.  He released his first CD, "Just the Way I Am", and he is currently working on his second CD.  His favorite venue is still the smaller performances with just him, his guitar, and favorite keyboard player, Michael Conner.  Rob and Michael together formed "Keys and Strings" and has played many concerts and venues, including the historic "Farr Best Theater", in Mansfield, TX.
For more information on Rob or his music, go to www.reverbnation.com/robowen or www.facebook.com/rob.owen.507.